High Quality- No Tarnishing, No Fading, No Rusting
24k Gold Plated made with high quality materials that withstand the test of time, sweat, dust and heat. Designed to endure and lasting for wearers. No tarnishing, fading or rusting, or itching. Very comfortable and classy.
Four in One Set: Necklace, Earing, Bracelet and Ring
Rock the four in one jewelry set with your native attire for all your outing and celebrations, even for dinner parties. Beautifully crafted and designed for elegance.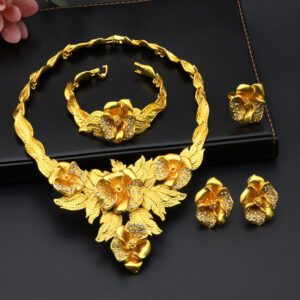 For All the Classy Ladies- For that Special Woman!
Buy for or Gift this to yourself, or for your bestie, your mom, spouse, sister, lover, girlfriend, soulmate, colleague.
For The Romantic Occasions- With Free Jewelry Box
Buy during Anniversaries, Engagements, Gift, Parties, Weddings, Reunions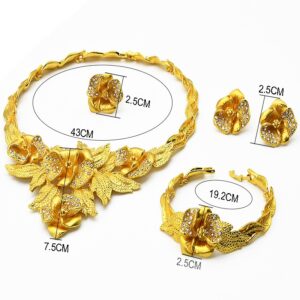 Don't miss out on this! Few Stock Remaining….