Classy, Awesome Watch/Silver Chain
This watch is Classy, Cool with Great Design and Quality. The strap is silver  stainless steel, with white inner watch and designed chronographs. The chain length is wide, better for people with big wrists.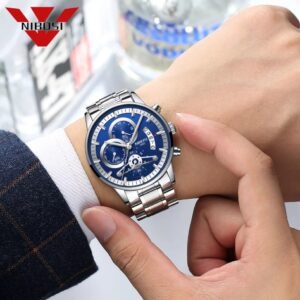 Fully Functioning Chronometers
This watch has 3 fully functioning chronometers. The Seconds Chron., The Minutes Chron., and The Hours Chron. You press the UPPER RIGHT BUTTON to activate the chronometers.
Style
Charm, Fashion, Luxury, Casual, Business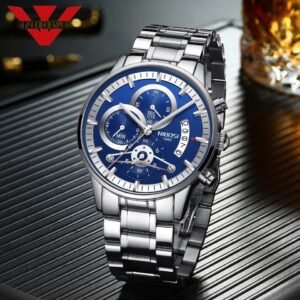 30M Deep Water Resistant
This watch is efficiently water resistant at 30M Deep. It can withstand rain, hand wash, bath etc.
Nuctulicence Display
The Minutes Hand and Seconds Hand, with the Watch Dials absorb light to show a glow when in the dark.
Auto Date Display
By the 3 O Clock position, you see the embedded Date Display in the inside watch. This is a complete Calendar. You always know your date!
Watch Dimensions
Case Diameter:  42mm
Case Thickness: 12mm
Band Width:        22mm
Weight:                130gram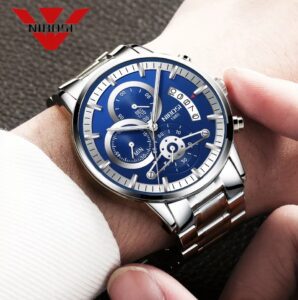 Free Gift Box/Accessories You also get a Free Gift Box, Manual, and 12 Months Warranty Card.
You also get an extra watch battery and Adjustment Rod  to adjust the chain.