Naviforce Brand Hi-Tech Dual Time Zones
This watch is Sleek with Great Design and Quality. The strap is purple colour, with white inner watch. It is a dual time zone watch with digital and analogue time. The chain length is wide, better for people with big wrists.
Style
Charm, Fashion, Luxury, Casual, Business, Sport
Functionalities
Digital Quartz, Multi-function, Alarm Clock, Stop Watch, Heart rate counting with the stop watch, moon phase, complete calendar, Power Reserve. This watch has digital chronometers in the digital watch display for counting seconds, minutes and hours.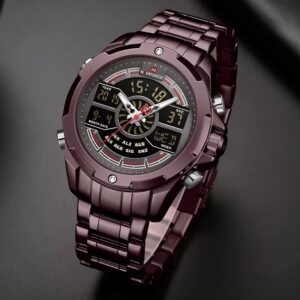 30M Deep Water Resistant
This watch is efficiently water resistant at 30M Deep. It can withstand rain, hand wash, bath etc.
LCD Night Display
On pressing the upper left button, you activate the LCD Night display which enables you to check the digital time when in darkness.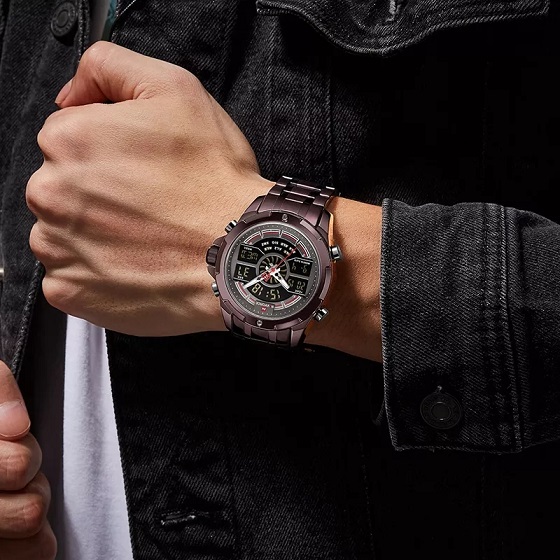 Auto Date Display
At the digital display,  you can check the date by pressing the upper right button. This is a complete Calendar. You always know your date!
Watch Dimensions
Case Diameter:  47mm
Case Thickness: 16mm
Band Width:        22mm
Weight:                185gram
Free Gift Box/Accessories: You also get a Free Gift Box, Manual, and Warranty Card.