This watch is Big, Bold and Heavy with Classy, Cool with Great Design and Quality. The strap is gold plated stainless steel, with blue inner watch . The chain length is wide, better for people with big wrists.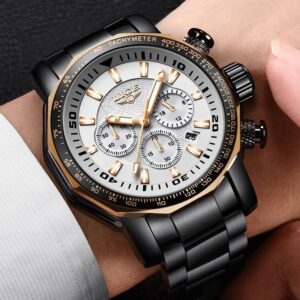 FULLY FUNCTIONING CHRONOGRAPHS
This watch has 3 fully functioning chronometers. The Seconds Chron., The Minutes Chron., and The Hours Chron. You press the UPPER RIGHT BUTTON to activate the chronometers.
Auto Date Display is shown by the 3 'O' Clock position. You no longer have to ask, just check the date anytime. Perpetual Calendar, Power Reserve.This is a complete Calendar. You always know your date!
The Minutes Hand and Seconds Hand, with the Watch Dials absorb light to show a glow when in the dark.
30M DEEP Water Resistant. It can support hand wash, rain, etc. Only rule is do not press any of the button when under water.
The working mechanisms of the watch has a manufacturer warranty of 12 MONTHS. This does not include when user accidentally damage the watch or its part.
Case Diameter:  48mm
Case Thickness: 14mm
Band Width:        20mm
Weight:                200gram
Free Gift Box/Accessories: You also get a Free Gift Box, Manual, and 12 Months Warranty Card.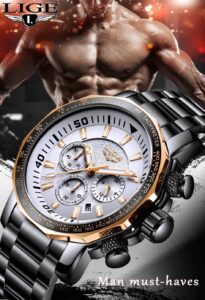 Charm, Unbeatable, Fashion, Limited Edition, Luxury, Quartz, Sport Watch.
A combination of Luxury, Fashion, Charm and Style for the real unbeatable men.